Project Ocean Plastic – Collect garbage for a chance to win one of three hand-sewn upcycled bags from the Faculty of Science!

Ocean Plastic – What's hidden inside the garbage?
Deadline: September 30, 2023
Garbage in the world's oceans is a serious problem for the environment. Plastic packaging in particular hardly decomposes and is a danger to animals and organisms in the sea. There are now projects that fish garbage out of the sea, but the question is, what to do with it? Can these plastics be recycled? The recycling of plastics is usually complex and cost-intensive and must be tailored to the particular plastics and ingredients.
The Ocean Plastic project of the research group of Prof. Dr. Andrea Büttner, Chair of Aroma and Smell Research at Friedrich-Alexander Universität Erlangen-Nürnberg, Germany (FAU) wants to find out how plastics are changed by seawater. Are there possibly differences depending on where the plastic waste is found?
The Chair of Aroma and Smell Research is involved in numerous sustainability projects, for example in the C-PlaNet project and cooperates closely on bioeconomy and circular economy with the Fraunhofer Institute for Process Engineering and Packaging.
---
Your commitment is needed!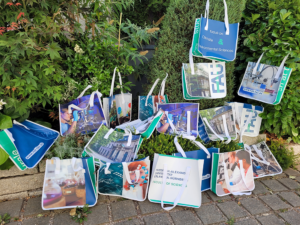 What can I do?
Send us garbage you found on the beach or in the ocean during your summer vacation. Our researchers examine the plastics for changes caused by seawater.
What can I win?
FAU's Faculty of Science will raffle off three hand-sewn shoulder bags made from upcycled roll-up tarps from all entries.
---
Conditions of participation
What do I have to consider?
Closing date: September 30, 2023
The plastic garbage must come from the sea, ocean or have been collected on the seashore.

Please

do

not

clean

the

garbage

and

touch

it

as

little

as

possible

.

The weight of the garbage should not exceed 100 grams (0.22 lbs). As a guide, an empty milk carton for 1 liter (35.2 fl. oz) of milk weighs about 40 grams (0.08 lbs).
Send the garbage with the participation form to FAU.
Travel or postage costs cannot be reimbursed.
The legal process for the competition is excluded. By participating, you agree to the publication of your name, your vacation destination and, if applicable, a photo of you.
---
Entry form
Fill out the form. It will be sent to you by e-mail after you click on "Submit". Print it out and enclose it in your package. You can either mail in your package or drop it off in person at the Chair. Fields marked with * are mandatory.
Submissions:
By mail or hand delivery to:
Friedrich-Alexander-Universität Erlangen-Nürnberg
Lehrstuhl für Aroma- und Geruchsforschung
Keyword Ocean Plastic
Henkestr. 9
91054 Erlangen, Germany
Further information:
Project partners