Structure of penguin breeding colonies is similar to glass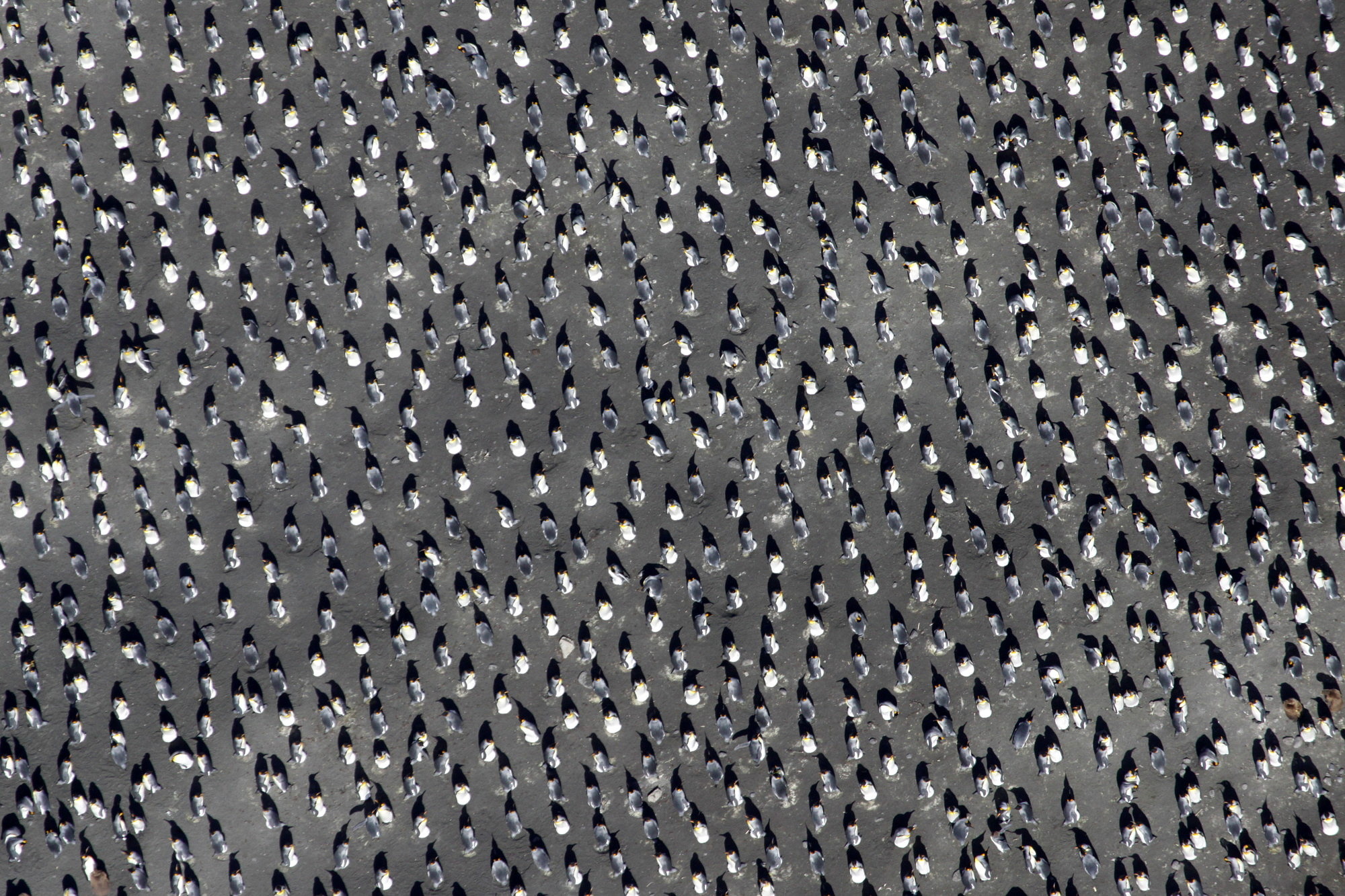 Researchers from FAU observed surprising breeding behaviour in penguins in the Subantartic
Breeding pairs of king penguins behave like molecules in solidified glass. This is the surprising result of an international study carried out by physicists and biologists at Friedrich-Alexander-Universität Erlangen-Nürnberg (FAU) who observed two breeding colonies for several years. The researchers believe that the glass-like arrangement of the breeding pairs enables the penguins to react quickly and efficiently to external disturbances, such as seals. The study has been published in the 'Journal of Physics D: Applied Physics'.
King penguins breed on subantartic islands, where they congregate in the summer months to form huge breeding colonies made up of several hundred thousand birds. In contrast to most other species of penguin, they do not build nests, but carry their eggs in a flap of skin in their abdomen. Despite this fact, each pair remains in more or less the same place during the two-month incubation phase and aggressively defends its breeding spot against other penguins.
Breeding spots resemble drops of water
In conjunction with colleagues and an international team of researchers from France, Monaco, and the USA, Richard Gerum, a doctoral candidate of Prof. Dr. Ben Fabry at the Chair of Biophysics at FAU, charted the locations of several thousand breeding pairs of king penguins using photographs taken from a helicopter. During the study, the researchers discovered that the structure of the breeding spots resembles a two-dimensional fluid of particles that are held together like a drop of water by mutual forces of attraction. However, they push each other away if they get too close to each other.
Such interaction of attractive and repulsive forces between particles was first presented by British physicist John Lennard-Jones in 1924. The team used this physical model to analyse the behaviour of the breeding colony. The attractive forces describe the penguins' tendency to form a dense breeding colony. The repulsive forces describe the 'pecking radius' with which the penguins defend their breeding area.
Disturbances are repaired
When they analysed the model, the researchers discovered that the structure of the breeding colony is similar to that of solidified glass and thus remains intact for several weeks without any significant changes. However, this only occurs if the colony is not disturbed. Since parent birds take it in turns to incubate their egg, the structure enables the penguins to find their partner easily. Disturbances in the colony, such as seals looking for a sunny spot to rest, are quickly repaired by rapid local 'melting' and 'solidifying' of the structure without unsettling the whole colony.
Optimum condition
The team believes that this glass-like condition offers optimum density and flexibility. In contrast, further consolidation by a lattice-shaped arrangement of the breeding pairs (such as in crystals) would lead to local disturbances spreading like a crack through the entire colony and would be very difficult to repair.
Further information:
Richard Gerum
Phone: +49 9131 8525604
rgerum@biomed.uni-erlangen.de
Prof. Dr. Ben Fabry
Phone: +49 9131 25610
bfabry@biomed.uni-erlangen.de