A trailblazer in the field of geology: Dixie Lee Bryant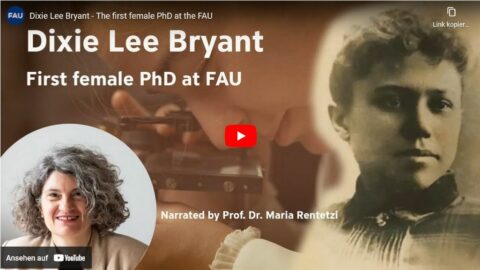 1904: The first woman, an American, completes a doctoral degree at FAU
The Massachusetts Institute of Technology (MIT) has named a lecture hall after her. Here in Germany, hardly anyone knows her name. And yet she could be a real inspiration for young women in science: Dixie Lee Bryant, the daughter of a businessman from Kentucky, USA, studied at MIT before becoming the first woman to receive a doctoral degree at FAU, in 1904. She left everything behind in the States to pursue her academic career, coming to Germany and enrolling at FAU for physics, geology and botanics.
FAU has now released a brief video in commemoration of our alumna on the occasion of the International Day of Women and Girls in Science on February 11:
Before the Bavarian Prince Regent Luitpold passed a decree in 1903 allowing women to enroll at Bavarian universities, they were only allowed to attend as guests. However, Dixie Lee Bryant managed to obtain a place in the young team of researchers led by the renowned geologist Hans Lenk, paving the way towards her doctoral degree. She wrote her doctoral thesis on the petrography of Spitzbergen.
When she returned to the North Carolina State Normal Industrial School with a doctoral degree in geology, she was the only member of faculty with a doctoral degree. However, at that time, it was still not possible for her to pursue a career in science. Instead, she taught for many years at secondary schools in Chicago, before returning to North Carolina in her later years.
"Dixie Lee Bryant was an impressive young woman, who pursued her goal of an academic career with determination. At that time, she was not permitted to enroll at any university in the Southern states of the USA. She completed her Bachelor's degree later at MIT. She deserves to be admired for the remarkable step of undertaking an arduous journey across the Atlantic, where she gained the respect of her male colleagues. We are proud that this brave woman gained her doctoral degree from FAU," states FAU President Joachim Hornegger. "FAU has suggested to the City of Erlangen that a street should be named after Dixie Lee Bryant."